Sharlene and Nihar planned a destination wedding in a beautiful, rustic setting. The Santa Cruz mountains brought a serene feeling that Sharlene loved when she camped with her students nearby years ago.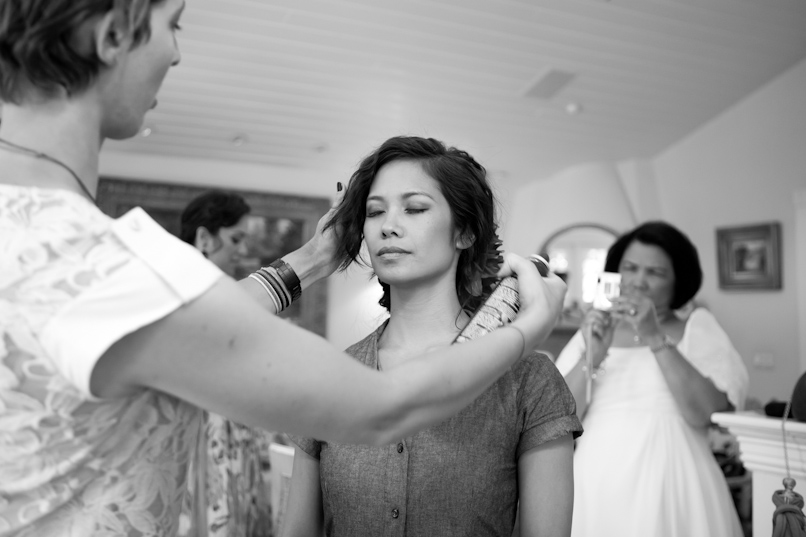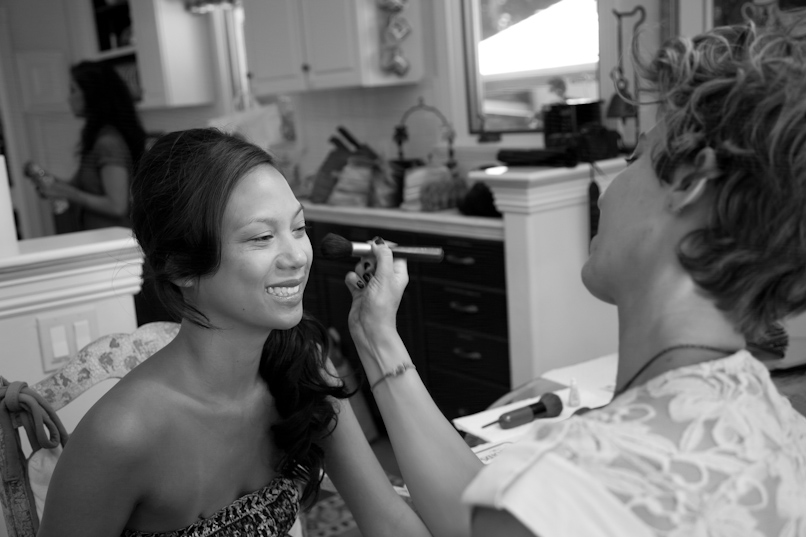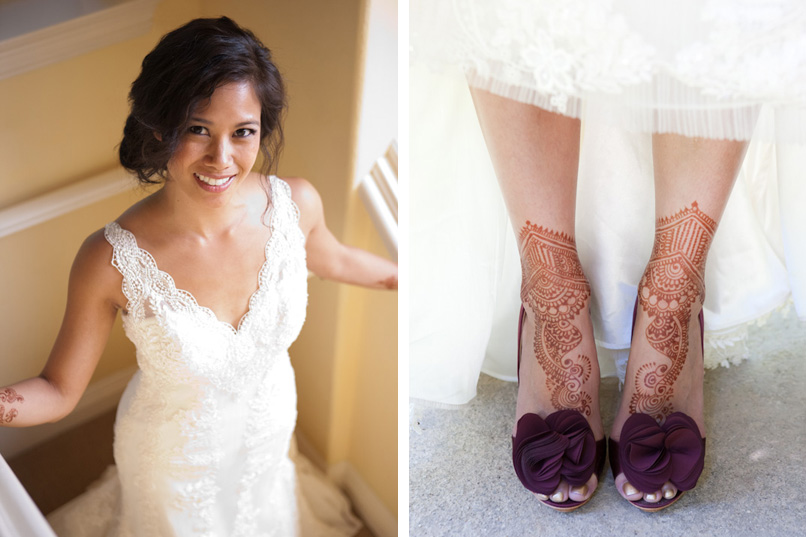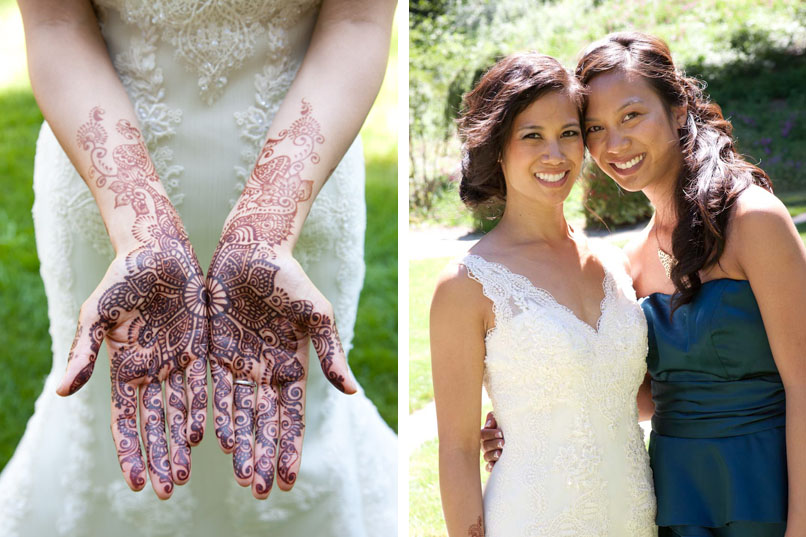 Sharlene asked Rachna Bhatt of Henna and Beyond to create a fusion henna design with the Ashoka Wheel and the Filipino Sun. Nihar's name is also written throughout the intricate details.
The Nestldown house was a great place to get ready while the baraat (a celebratory bridegroom procession) took place at the barn. The guests danced to the beat of drums before heading down to the Chapel.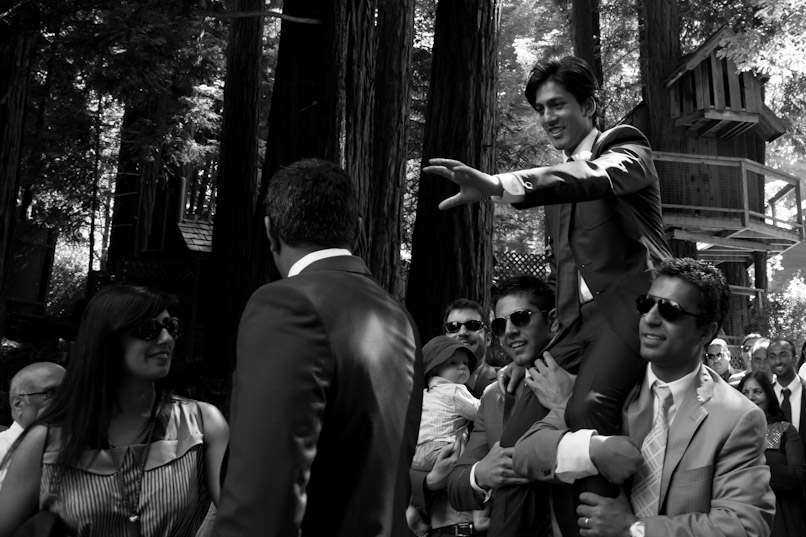 Sharlene's parents wore traditional Filipino formal wear. Her dad wore a barong tagalog (bah-rohng  ta-ga-lohg) and her mom wore a terno (ter-no), a traditional Filipino dress with butterfly sleeves.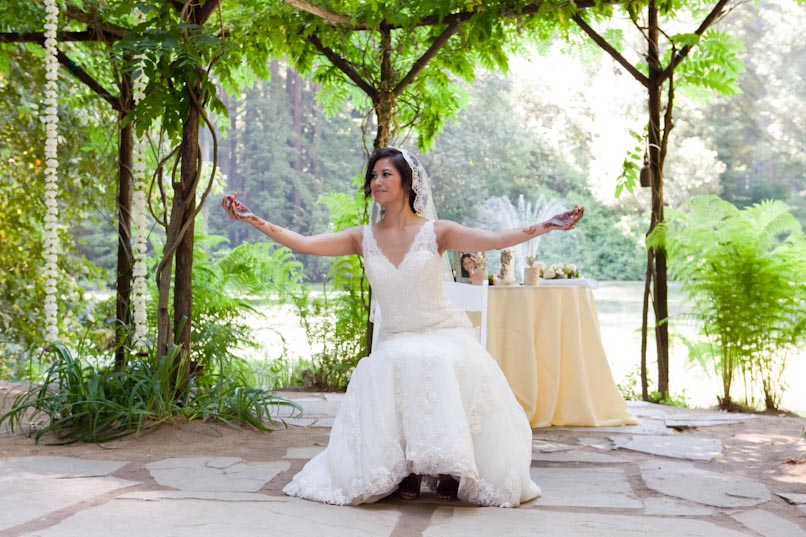 Sharlene loves dance and she is practiced in many different styles. During the wedding ceremony, she performed a surprise hula performance: Keali'i Reichel's Maunaleo (choreographed by Keali'i as a seated hula, hula noho). It was a tribute to Nihar and Sharlene's mothers and grandmothers, living and in spirit.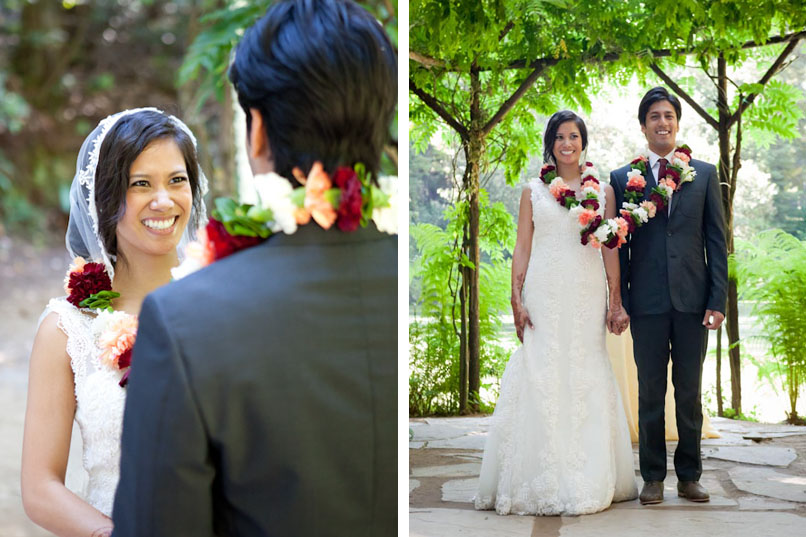 Traditionally, an Indian bride and groom exchanged var mala or jai mala, separate garlands that signify acceptance of each other as husband and wife. They also symbolize the unification of their hearts, minds and souls. Sharlene and Nihar's wedding ceremony was a fusion of both Indian and Filipino-Catholic traditions. The garlands were connected as a wedding cord and formed a figure 8. It symbolized everlasting fidelity.
Sharlene and Nihar adapted the Sapta Padi and took The Seven Steps and Vows to pledge their commitment to each other.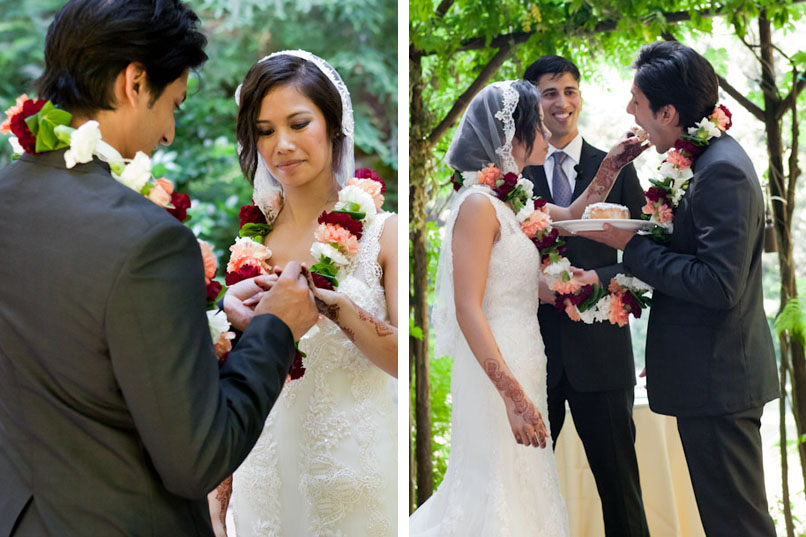 Along with the exchange of wedding rings, Sharlene and Nihar offered each other a bite of Cinnabon in lieu of traditional Indian sweets. It was part of Anna Prashaan, a ritual where the bride and groom wished each other a sweet life filled with truth, sincerity and love. Neel, the Officiant, said their fate was sealed before they even met because Nihar loved Cinnabon and Sharlene used to work at Cinnabon.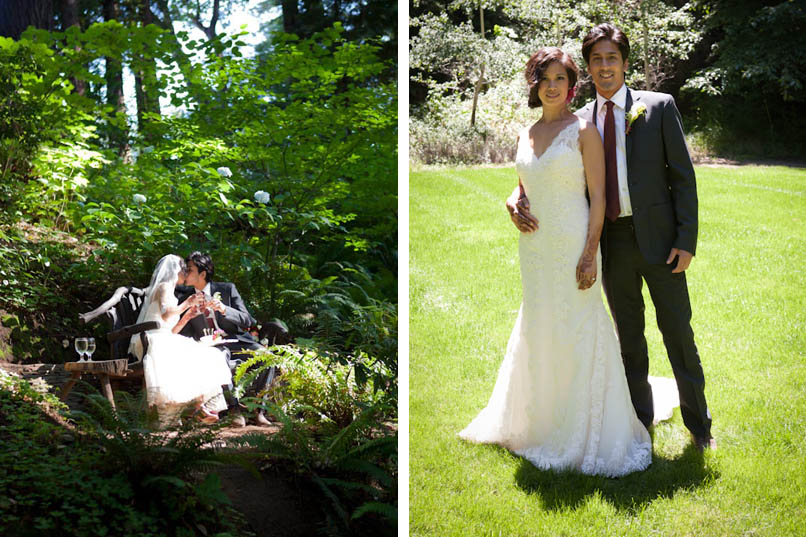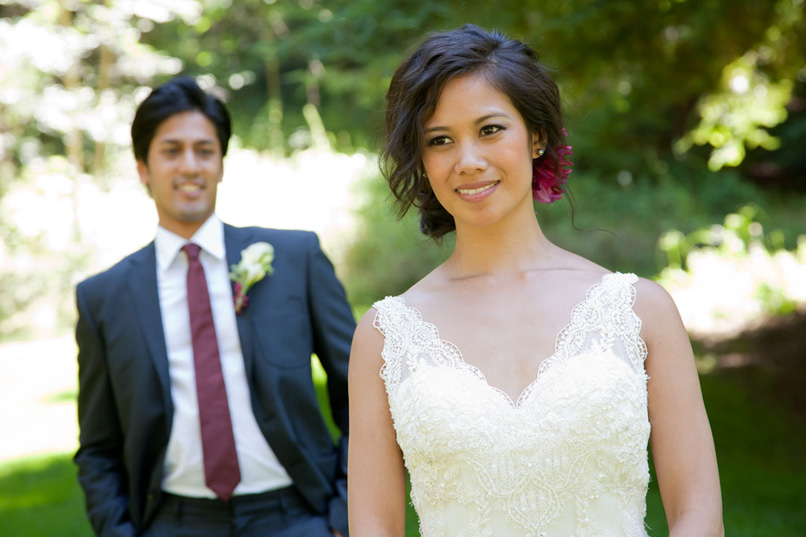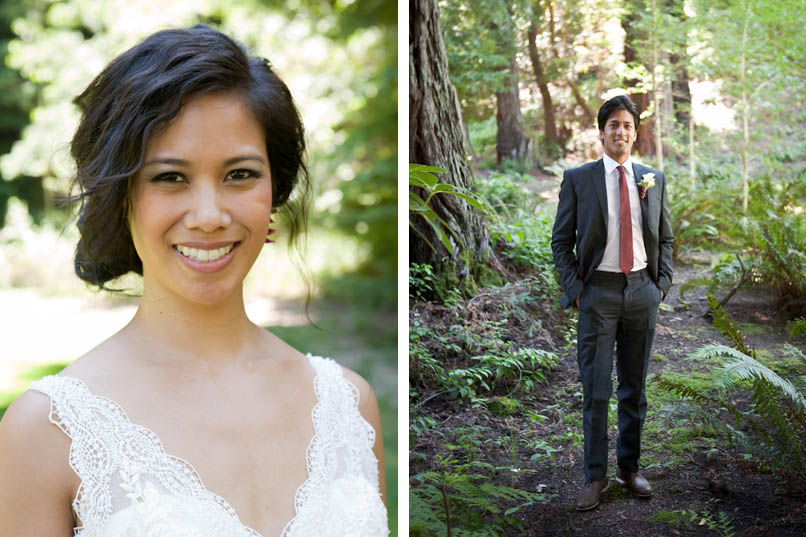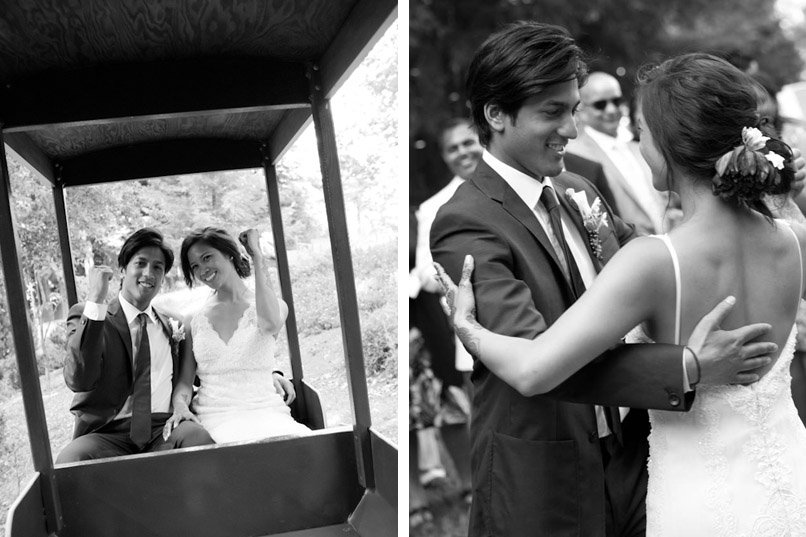 The bride and groom arrived at cocktail hour on a mini train! They danced their first dance surrounded by loved ones and redwood trees.
Nihar came up with a soccer theme for the table names and seating plan. Nihar and his friends are avid soccer fans.
Nihar's dad gave a great speech. A couple of guests found a fun way to wear their place cards/wedding favors from Dwell.
Sharlene is an elementary school teacher in New York City. Her students created flower holder covers for the reception. This one was a portrait of Nihar. On the right, Sharlene and her friends were so playful and not camera shy. These girls can vogue!
After dinner, the party continued in the barn. DJ Marky Enriquez played the jams. It was boisterous and full of fun!
And off they went into the night! Congratulations!
Sharlene's Wedding Dress: Pronovias
Sharlene's Shoes: Badgley Mischka
Hair: Jacqueline Bush
Make-up: Arlynn Santos Casanada
Mehndi / Henna: Rachna Bhatt of Henna and Beyond
Nihar's suit and tie: Rag and Bone
Nihar's shirt: Seize sur Vingt
Nihar's shoes: Rachel Comey
Maid of Honor's Dress: David's Bridal
Flowers: Lakshmi's Floral Design
Officiant: Neel Singhal
Wedding Ceremony and Reception: Nestldown
Wedding Reception Caterer: Continental Caterers
Shuttle Service: Corinthian Parking
Wedding Ceremony Musicians: FilAm Veterans Rondalla
Cocktail Hour and Reception Musicians: Gaucho
DJ and Emcee: Marky Enriquez
Second Photographer: Sabrina Wong